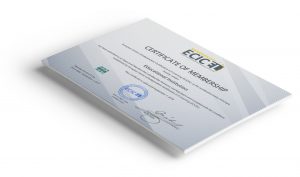 ECICEL welcomes membership applications from educational institutions which offer predominantly open, distance, or online courses. Admittance to the membership for institutions, educational providers, agencies, and companies seeking membership is subject to approval by the ECICEL Committee. These must be recognized in their own country or region and must conduct educational operations in accordance with codes of ethics in distance learning.
Membership is a system of review that periodically evaluates the extent to which institutions achieve its own objectives and meets the standards determined by ECICEL. Evaluation addresses operational and curricular issues fundamental to the delivery of quality education and training, via the medium of online, distance or open learning.
An Approved Member may acknowledge its ECICEL membership and display the ECICEL Logo on its website, prospectus, course materials, or graduation certificates, and on other publicity or promotional materials.
To apply for ECICEL Membership, please complete and submit the online application form. If you have any other questions, please contact us.
Why become an ECICEL member?
Providing learning benefits your organisation through recognition and increased brand perception. Internal use of ECICEL encourages and promotes a healthy learning culture for your organisation, leading to a more fulfilled workforce and retaining valuable staff.
Quality Mark a clear signal of your commitment to quality;
Review and advise on organisational ECICEL requirements;
Licence to use ECICEL Member logo on company marketing materials;
ECICEL Certified symbol on approved ECICEL course materials;
Presence in ECICEL Member's List for user validation and searching;
Ability to publicise certified events on ECICEL Event Calendar;
Arbitration to resolve disputes with learners if required.
If still have any questions you are invited to contact our office via contact form.